Reconnect, Realign, Reengage Not just a "conference," Soularize offers the opportunity to do profound inner work together with other men. At this 2022 gathering, we will be guided through the Work that Reconnects, a process pioneered by Joanna Macy, a scholar of Buddhism, systems theory, and deep ecology. This work unfolds as a spiral journey through four stages: Coming from Gratitude-Honoring our Pain for the World-Seeing with New/Ancient Eyes-Going Forth.
This is the work required to awaken us to our current alienation and reconnect us to ourselves, to each other, and to the planet. At Soularize⁠—utilizing ritual, story, poetry, drumming, nature wanderings, small group Councils, and more⁠—we will do this work together, for the good of the world, through a power greater than our own.
Embracing our lives, each other and the world. The past year has been marked by pandemic, social and political unrest, the loss of life, and unprecedented separation and isolation. It's been a time of discord, disruption, and disillusionment. Join us for Soularize 2021, as we come back together as men transforming men, shoulder to shoulder once again. We'll reconnect in ways that offer healing and wholeness, new life and possibility for each other and the wider world.  Our bodies carry wisdom and shame, trauma and holiness, bias and blessing. And they ache for re-connection. We'll tend to them and to each other as we explore our relationships with other bodies, including the Earth and the deep union that is beneath.Through drumming, story, nature, and council, we will re-embody inner work that makes a difference in the world. Watch videos
The retreat was held virtually and focused on the wounding of a man's soul, which is not generally recognized until midlife. The carrying of unresolved grief, internalized shame and guilt, loneliness, personal family traumas, intergenerational issues, and societal pressures all serve to weigh men down in disparaging ways. The wounds of individuals spiral outward, leading to larger wounds in society such as racism, toxic patriarchy, and our ecological crisis—which, in turn, further wound individuals in a negative feedback loop.
The injury to a man's soul, and the wounds of the world, cry out for healing, and Illuman offers a pathway through. We are men transforming men, through a Power greater than ourselves. Using the ancient tools of nature, ritual, image, storytelling, and Council, we will help one another reclaim the soul's wisdom and the gift of joy. Bearing gifts that often come straight from the wound itself, we then join sisters and brothers as healing agents in a hurting world. Watch Videos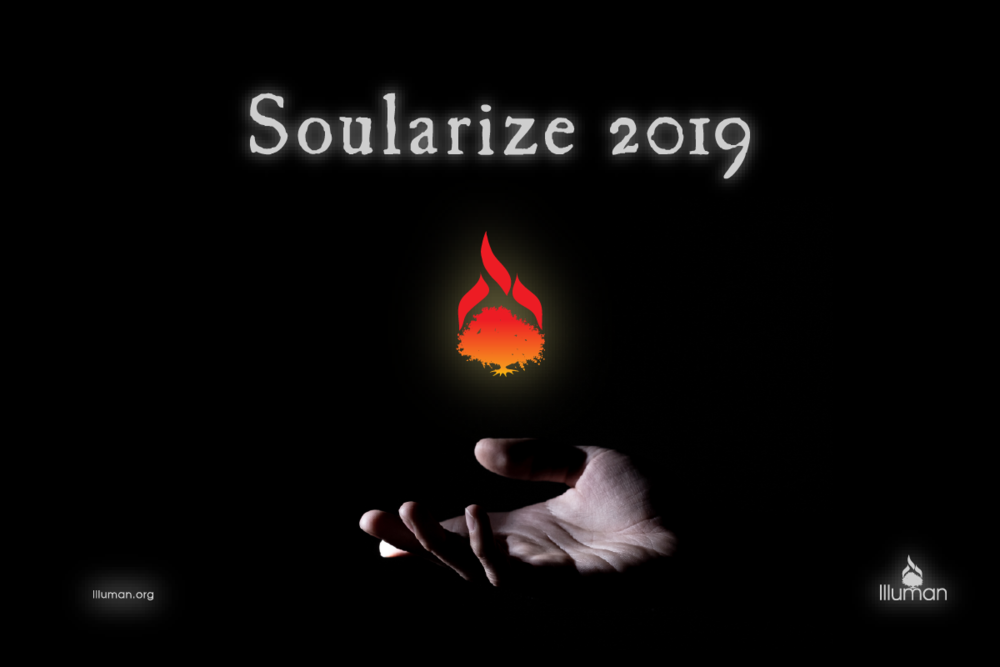 Join Illuman and Fr. Richard Rohr for Soularize 2019 as we reflect upon what it means to be "Men Transforming Men" for a healthy masculinity. Let's stand shoulder-to-shoulder with other men across the world as we consider what makes a man healthy and whole. What challenges do men face today? What are the obstacles we encounter in developing a deeply integrated and healthy masculine identity? Where can we get support? How do men's rites of passage and initiation rites, today and historically, help create men capable of living their lives with purpose and meaning, doing their soul work and contributing to a world that deeply needs men to show up as generative learners and elders? We will be sharing wisdom, commitments, and practices that men have found powerful in living fulfilled lives as spiritually healthy men. Watch Videos
Everyone yearns for—and needs—a purpose that can be embodied, a meaning that can be lived. Our gathering will help us look at our purpose from a very different vantage point rarely considered: that of the more-than-human world. How can we more fully engage this essential realm of purpose, personally and communally, in the unfolding of the world's story in this liminal time and space? Noted author, wilderness guide, and depth psychologist, Bill Plotkin, will be our guide on this exciting and challenging journey. Watch Videos
Illuman explored the ways in which men are "eldered." This can be understood in two ways. First, men are supported to become their authentic selves by elders: men who have walked that path before them. To be eldered by another man is to be recognized, respected, and met at the soul level. How, where, and when does this happen? Men also become elders in the Illuman way through gathering, connecting, centering, releasing, and serving. To become an elder is not just the process of growing older—it is a much deeper, more profound soul encounter. How does it happen? Who can help guide us through this process? This Soularize brought together men to explore these questions through Council, time on the land, sharing from Illuman leaders, reflection, and prayer. Fr. Richard Rohr joined us and presented his vision of what it means to be an elder. Watch Videos
Illuman hosted Soularize 2016: Firestoker—Show Up and Act! in Bernalillo, New Mexico. The event included panel presentations by Illuman men, describing the four gates they passed through on their spiritual journey to Service, the fifth Illuman Touchstone on the Journey of Illumination. The four gateways were: Grief and Loss, Addiction, Social Justice, and Care for the Next Generation. This Soularize brought together men to explore these questions through Council, time on the land, sharing from Illuman leaders, reflection, and prayer. Watch Videos
In 2015, Illuman hosted Soularize 2015: Season's of a Man's Life in Bernalillo, New Mexico.  The event included presentations by Illuman's Weavers on four seasons of a man's life: Sowing, Growing, Pruning, and Harvesting.  In addition, we were joined by Fr. Richard Rohr for a talk about male spirituality and men's work, and hosted a panel of presentations with Illuman men involved in Social Justice issues. Watch Videos
This short video presents the vision of Fr. Richard Rohr, founder of Men as Learners and Elders. It also shares the perspectives and viewpoints of just a few of the many men and teachers involved in this work. We look forward to sharing this transformative spirituality with you as we continue our journey together.
At Soularize 2016 Terry Symens-Bucher, President of the Illuman Board of Directors, introduced the following welcome message to the men of Illuman. The message is adapted from the "Diversity Welcome" at Training for Change and is also used by the intentional community Canticle Farm in Oakland, California.
The Way of Council is Illuman's primary practice, implemented at all levels of our work, from rites of passage to chapter meetings, from our homes to our wider communities. We respect this enough to equip men to do it well, but we acknowledge that council emerges apart from our efforts to control it. Circles have an archetypal life of their own. Council is the best teacher of council. In this video, Jim Taylor describes the Illuman Way of Council for attendees to Soularize 2016.

In November 2016, Illuman hosted Fr. Richard Rohr for the Drawing from a Deep Well Men's Retreat in Bernalillo, NM. Fr. Richard led attendees on an up close and personal journey through his 35 years in the development of male spirituality retreats and programs that led to the creation of Illuman in 2012.  With his ever-present sense of humor and touching insight, he makes himself vulnerable by sharing stories and reflections on his own spiritual and personal journey. To access the videos from the retreat, please click the button below.